Alan Brisdon's Fluorine Research Group
This is the Home Page of Alan Brisdon's (linkedIn page) fluorine research group from the School of Chemistry at The University of Manchester, formerly UMIST. Here you will find details of our research in fluorine chemistry which covers the synthesis of inorganic, organometallic and organofluorine compounds as well as their spectroscopy, characterisation and applications. You will also find information of our group, facilities and publications.
Fluorine Chemistry underpins all of our research work
Fluorine is one of the most reactive elements in the periodic table yet some of its compounds are the most stable and least reactive; while others are more reactive than fluorine itself! It is the ability of fluorine to drastically alter the steric and electronic properties of its compounds that fascinate us.
Compounds of fluorine find applications in almost all areas of modern life. From fluoride in modern toothpaste to the many different fluorinated plastics and materials, including polytetrafluoroethene, PTFE (tradename Teflon) which is the inert plastic used in "non-stick" pans. Very many modern pharmaceutical compounds (anti-cancer, antibiotics, anti-malerials etc) include fluorine, or fluorinated groups. Fluorine is also heavily involved in environmental chemistry, for example the generation of hydrofluorocarbons (HFCs) and hydrofluoroolefins (HFOs) arose because of the phaseout of their ozone-depleting cousins, CFCs.

Fluorine and HFC chemistry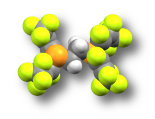 Fluorine-containing phosphines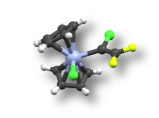 Fluoro-organometallics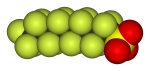 Fluorine-containing materials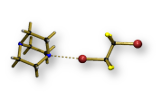 Structural Fluorine Chemistry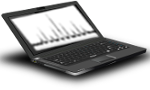 Spectroscopy and Analysis Tools

Publications
The group, past & present Current and former project students, MSc, PhD researchers. Also how to join us.
Links to fluorine, chemical and related items such as journals, suppliers, societies and relevant software